Ti-Grade 12
Overview of Titanium Grade 12 alloy
Ti Grade 12 Titanium alloy is a low alloyed near-α alloy of Ti-Mo-Ni series. The chemical component is Ti-0.3 Mo-0.8 Ni.
It is a strengthened Titanium alloy with good crevice corrosion resistance, better than pure Titanium and close to Ti Grade 7.
Due to its superior process plasticity, weldability and corrosion resistance, Ti Grade 12 alloy is widely used in chemical industry, such as heat exchanger, vacuum salt making equipment, etc.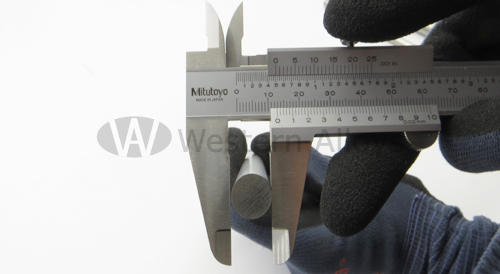 Western Alloys produces all kinds of Ti Grade 12 products, such as Ti Grade 12 Sheet, Ti-0.3Mo-0.8Ni Rod, Tube, Parts etc.
Properties of Titanium Grade 12 alloy
Ti Grade 12 Titanium alloy thermal conductivity
θ/℃
20
100
200
300
400
500
600
λ/W·m-1·K-1
19
19.5
18
17
16.5
15.3
-
Ti Grade 12 alloy specific heat capacity
θ/℃
100
200
300
400
500
600
c/J·kg-1·K-1
19.5
18
17
16.5
15.3
-
Ti Gr.12 Titanium alloy resistivity
θ/℃
20
100
200
300
400
500
ρ/μΩ·m
0.52
0.65
0.82
0.99
1.15
1.28

Comparison of corrosion resistance of Ti Grade 7 and Ti Grade 12 in nitric acid