Ti-Grade 5
Overview of Titanium Grade 5 alloy
The main characteristics of Ti-6Al-4V (Ti Grade 5) alloy are its excellent comprehensive and good processing performance.

Ti Gr5 Titanium alloy also has the excellent process properties of plasticity and super plasticity. Therefore, they are suitable for forming by various pressure machining methods, and compatible for welding and machining in various ways.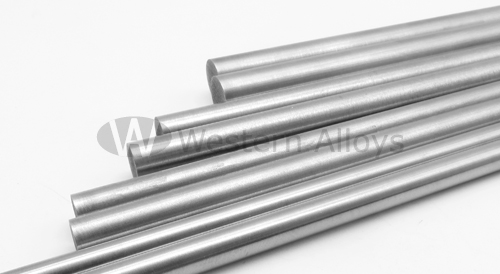 Western Alloys provides Ti Gr.5 Sheet, Ti Grade 5 Rod, Titanium grade 5 Foil, Ti-6Al-4V Wire, Ti Grade 5 Parts, Ti Gr.5 Gr.23 Bar and other products.
Properties of Ti Grade 5 alloy
Ti Grade 5 Titanium alloy thermal conductivity
θ/℃
20
100
200
300
400
500
λ/W·m-1·K-1
6.8
7.4
8.7
9.8
10.3
11.8
Ti-6Al-4V Titanium alloy specific heat capacity
θ/℃
20
100
200
300
400
500
c/J·kg-1·K-1
611
624
653
674
691
703
Ti-6Al-4V Titanium alloy linear expansion coefficient
θ/℃
20~100
20~200
20~300
20~400
20~500
20~600
α/10-6K-1
9.1
9.2
9.3
9.5
9.7
10
Ti-6Al-4V Titanium alloy resistivity
θ/℃
20
100
200
300
400
500
550
600
700
800
ρ/μΩ·m
1.70
1.76
1.82
1.86
1.89
1.91
1.92
1.92
1.92
1.91

Creep stress - plastic strain curve of annealing Ti Grade 5 Titanium alloy castings