Ti-Grade 9
Overview of Titanium Grade 9 alloy
Ti Grade 9 Titanium alloy is a near - α Titanium alloy. The chemical composition is Ti-3Al-2.5V.
It was developed as a tube material that can be used in cold processing and is 20 to 50 percent stronger than pure Titanium at room temperature and high temperature.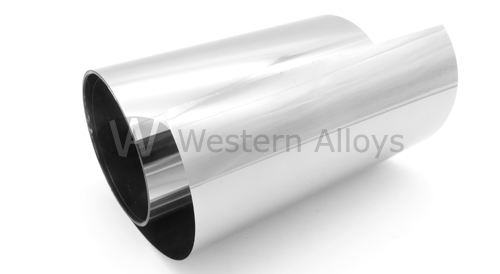 Ti Gr.9 Foil widely used for aircraft honeycomb. The seamless tubes produced by Ti Grade 9 have a wide range of applications in aircraft and engine hydraulic and fuel piping systems.
Properties of Ti Grade 9 alloy
Ti Grade 9 Titanium alloy thermal conductivity
θ/℃
100
200
300
400
500
600
700
800
λ/W·m-1·K-1
11.7
13.0
13.4
14.2
14.7
16.3
17.6
19.3
Ti-3Al-2.5V alloy linear expansion coefficient
θ/℃
100
200
300
400
500
600
700
800
α/10-6K-1
8.77
9.56
9.66
9.70
9.65
9.68
9.84
9.73
Ti Gr.9 Titanium alloy resistivity
θ/℃
20
100
200
300
400
500
600
700
800
ρ/μΩ·m
1.25
1.31
1.42
1.52
1.60
1.66
1.71
1.74
1.74
Ti Gr.9 Titanium alloy fatigue limit of rotating bending at room temperature
Form
d/mm
Status
Sample direction
σb/MPa
σp0.2/MPa
Kt
R 
N/week
σD/MPa
rod
17
750℃, 1h, cool air
L
691
584
1
-1
107
343
3
-1
107
176
Ti Gr.9 Titanium alloy tube axial loading fatigue limit
Form
d or δ/mm
Status
Sample direction
θ/℃
Kt
R 
f
N
σD/MPa
tube
9.5X0.7
annealed
L
20
1
-1
30
107
320
Ti-3Al-2.5V dynamic modulus of elasticity at different temperatures
Form
Status
d or δ/mm
E/GPa
20℃
100℃
200℃
300℃
400℃
500℃
tube
650℃, 30min, cool furnace
6X0.6
96.3
-
-
-
-
-
10X0.75
99.0
-
-
-
-
-
12X0.9
99.0
-
-
-
-
-
sheet
650℃, 30min, cool furnace
1.0
106.0
100.5
92.6
85.6
79.3
74.2
Titanium Grade 9 high temperature creep properties
Form
Status
θ/℃
σ1.0/1000/MPa
tube
annealed
250
400